Michael Jordan / Bugs Bunny Commercials

A print from a Hare Jordan shirt.

Released

January 1992-1999
The Michael Jordan Bugs Bunny Commercials were a series of commercials and advertisements that combined live-action and animation. These commercials/advertisements were made for Nike and MCI.
History
After the theatrical shorts ended, Looney Tunes wasn't as popular or as well-known to the public eye as the series once was. With the success of "Who Framed Roger Rabbit?" a live-action/animation hybrid film, the Looney Tunes characters were once again showed on the big screen in an animated film.
In January 1992 Bugs' comeback started, thanks to collaboration with the world's most famous athlete, Michael Jordan. During Super Bowl XXVI, Viewers were thrilled to see the two titans in their own respect basketball against a team of bullies in the "Hare Jordan" spot for Nike, imagined by Wieden Kennedy creative director Jim Riswold.
"This could be the beginning of a beautiful friendship!" said Bugs to Jordan at the end of the ad. The commercial did so well that Warner Bros. reunited the two for a 90-second ad during Super Bowl XXVII the following year.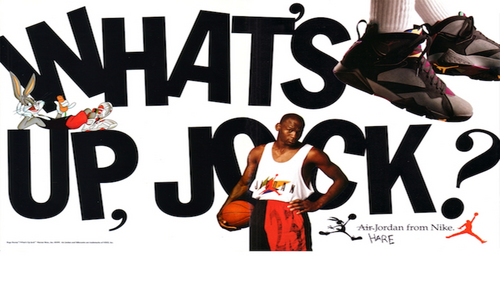 In 1995, McDonald's introduced a line of collector's cups pairing Daffy, Taz, Sylvester, Yosemite Sam, Wile E. Coyote and Road Runner with NBA stars such as Charles Barkley and Patrick Ewing.
Warner Bros. then saw the audiences renewed interest in Looney Tunes. At the insistence of Jordan's longtime agent David Falk, Warner Bros. placed Space Jam in motion, blending the Looney Tunes' traditionally animated world with Jordan's live-action one.
Joe Pytka boarded the project as director, having helmed the Directors Guild Award-nominated "Hare Jordan" spot as well as iconic ads such as the PDFA's "This Is Your Brain on Drugs" and Pepsi's "Uh-Huh" starring Ray Charles. Bruce W. Smith and Tony Cervone agreed to direct the film's animation, with Ron Tippe producing. Screenwriters Leo Benvenuti, Steve Rudnick, Timothy Harris and Herschel Weingrod wrote a storyline in which the characters call upon a retired Jordan after staking their freedom on a game against the Nerdlucks, who have stolen NBA stars' skills to become the brutal Monstars.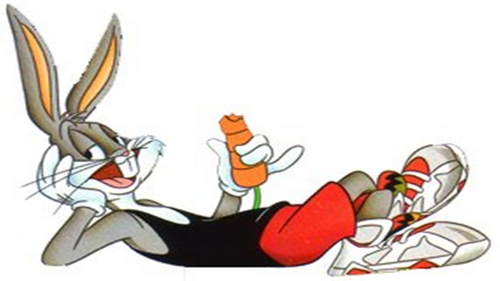 With the financial success of Space Jam, a sequel was to be made. However, Michael Jordan had no interest in acting in a sequel to the film. Bob Camp said that while Michael liked interacting with the Looney Tunes, he didn't like acting. Without Michael on board, the production of Space Jam 2 was stopped.
Michael Jordan, meanwhile, kept up with his "Space Jam buddies" in a series of TV commercials for MCI. The series of commercials would be the last time that Jordan and the Looney Tunes characters would share the screen together.
List of Commercials
McDonald's Looney Tunes/NBA stars
Space Jam McDonalds Commercial